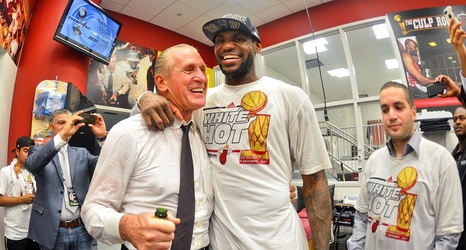 Miami Heat president Pat Riley has changed his tune.
An introspective Riley told Ian Thomsen in the latter's upcoming book, "The Soul of Basketball," that LeBron James made the right call by choosing to return to Cleveland after his memorable four-year tour – which included two championships – through South Beach.
"While there may have been some carnage always left behind when he made these kinds of moves, in Cleveland and also in Miami, he did the right thing," Riley told Thomsen, as relayed by ESPN's Jackie MacMullan.
"I just finally came to accept the realization that he and his family said, 'You'll never, ever be accepted back in your hometown if you don't go back to try to win a title. Otherwise someday you'll go back there and have the scarlet letter on your back. You'll be the greatest player in the history of mankind, but back there, nobody's really going to accept you.'"
Having said that, Riley also admitted that he was initially furious when James ditched a dynastic team in Miami to start over in Cleveland.
"I had two to three days of tremendous anger. I was absolutely livid, which I expressed to myself and my closest friends," Riley said. "My beautiful plan all of a sudden came crashing down. That team in ten years could have won five or six championships. But I get it. I get the whole chronicle of his life."