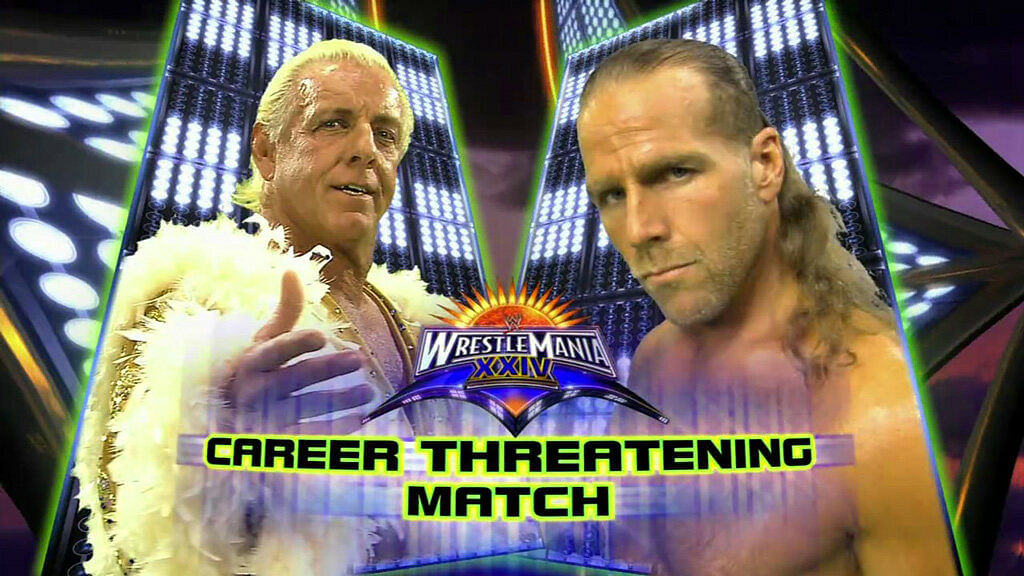 One of the most memorable matches from Shawn Michaels' storied career was Ric Flair's retirement match at WrestleMania 24. As a recent guest on the In This Corner podcast, Michaels discussed the match and said he choreographed the match himself to pay homage to his childhood hero.
"Truth be told, when it came to that kind of stuff, I am a bit of a control freak. Emotionally, I just knew where I wanted–especially with that match, that might quite honestly it was my 'love letter' to Ric Flair," Michaels said. "My way of trying to show him, not only the friendship that we have, but also the impact that he had on a 15 year old me, and trying to convey that to him through a wrestling match, and knowing that I couldn't be the only guy that he had that effect on. You hope that the other 80,000 fans out there get that; clearly everyone did, and the millions at home did."
Michaels said it was important to him to take creative control on that match because it was more than just a match to him. He had a lot of feelings and emotions about sending Flair into retirement and he wanted to make sure that those emotions were conveyed in the match.
"It's sort of making that decision as a performer to say, look, this is something I want to do, please let me do it. It's not because you don't want them to do anything to mess it up, it's your feelings and emotion, so you have to be the one that is driving that match if it makes any sense," he said. "That is why I was so adamant about that match. Honestly, that is how most of my matches were. I probably wrestled only one way too much from my heart than to my head, but honestly for me that is what made the difference in those matches, which was for me to do it in more from a 15 year old fan in me."
Michaels has been working with NXT superstars in an advisory role. He said the biggest advice he can give them is to enjoy the pro-wrestling business. There is nothing easy about the business, especially early in their careers, so he wants them to find a way to enjoy the hardships as well. Michaels wants them to learn to appreciate the business, because when their careers are over they will miss it greatly.
"Believe it or not, I want to pass on to them about whenever everything is set and done, even if they are mentioned in the conversation, take that and be happy with it; be content and have peace with that. Enjoy this job; do it, and enjoy it," he said. "It's hard enough already as it is, you don't need to make it harder by complaining about this and that, I don't mean to make it sound bad, but everything is social media now, and my goodness, whenever everything is set and done, and when you are in your casket, do you know how many people from social media are going to be there? Not many. So, take the important things in life, make the most of those, enjoy the job, and have the opportunity to live out your dream. This is what I want to do with these guys; I want to instill in them and appreciate the opportunity that they have to be paid to travel the world and perform around people doing what we love to do. That is a great gig; just let the chips fall where they may because ultimately, if it's between you, LeBron James, Bill Russell, Michael Jordan; does it really matter?"